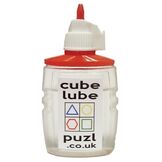 For Speedcubing it is often necessary to lubricate your Rubik's Cube. Some types of lubricants (such as simple WD-40) will damage your cube, any lubricants containing Acetone, Methylene Chloride, or White spirit (aka: Stoddard Solvent) should be avoided. Many cubers use Jig-A-Loo. One can cost around $5 USD. Also, cubers may use official lubrication like Lubix.
Applying Lubrication
Edit
To lubricate your cube, take off an edge piece (similar to dismantling a Rubik's cube), then spray one small squirt inside. After you have done this to all the cubies put the cube back together and start turning your cube. You need to turn the cube so the lubrication spreads evenly and so the cube will work better.
Video tutorials
Edit